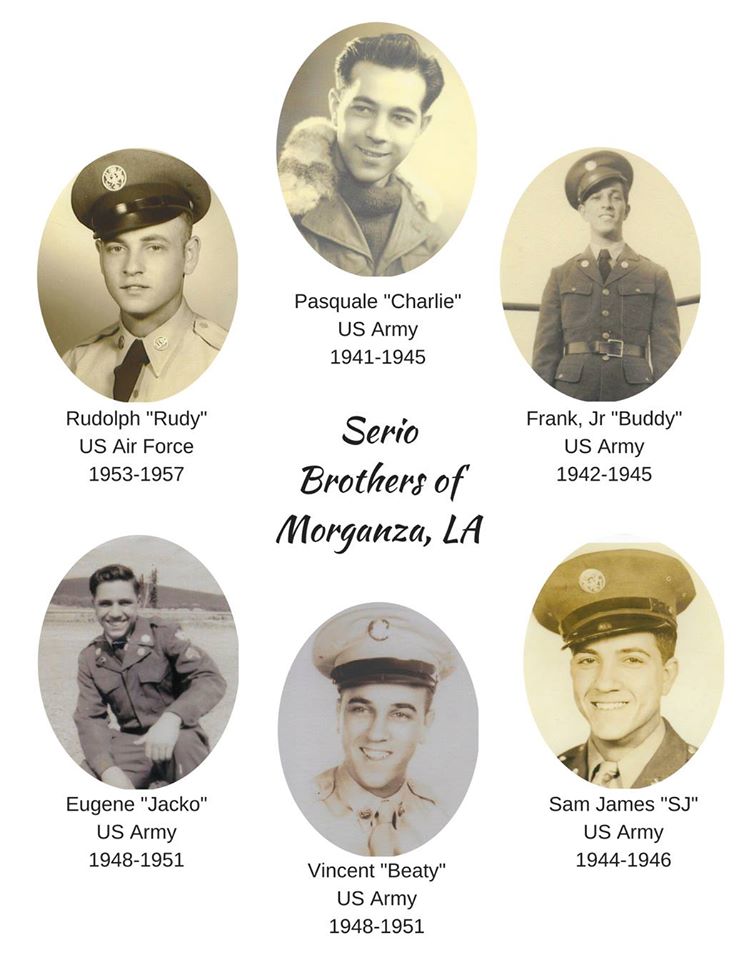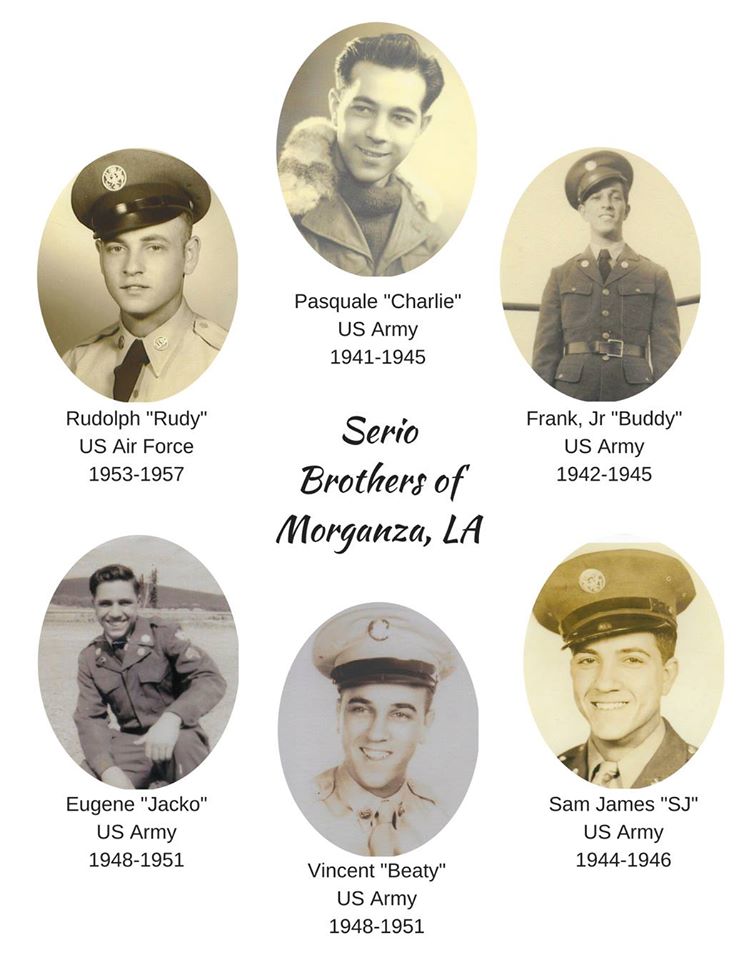 The three oldest Serio brothers served during World War II, at one point during the same time. A few years later, two more sons were away at the same time. The youngest served during the 1950s from 1953-1957. From 1941-1957, there was only a two-year period when a Serio Brother was not fighting for our country. Their mother also had three girls.
Their mother was remembered as sleeping on the floor during WWII because she couldn't bring herself to sleep in a comfortable bed while her boys were sleeping on the ground. She could often be found walking around her yard and praying the rosary. The safe return of her six sons has been attributed to her fervent prayers. Here are their stories.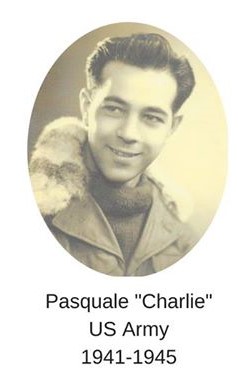 Pasquale Serio attended LSU for 2 semesters in 1938 and was in ROTC in the artillery unit. He enlisted in the army and was drafted on December 3, 1941, along with some other boys from Pointe Coupee. He was 21 years old. He was first sent to Camp Livingston in Alexandria, La. He stayed about a week then was sent to Camp Shelby in Mississippi. He was overseas for 24 months, leaving behind a four month old baby.
In his words: "On December 7, 1941 while at Camp Shelby, at around 8:30 am, while we were milling around the tents, some guy said, 'the Japanese bombed Pearl Harbor.' We were all like 'Huh. So what.' We didn't know what that meant or where that was. We soon found out though what it meant.
I was then sent to Fort Bragg, NC to learn more about artillery for about 9 weeks. Then I was sent to Fort Dicks to join the division that was going to Africa, where fighting was already taking place, but they realized they had enough boys going already so they sent me back to Fort Brad for a while. Eventually I was sent to Africa."
Pasquale, whose name was Americanized Charlie, was in Field Artillery and a forward observer. Back then, they didn't have the lasers to point to where you drop the bomb. It was done by two-way radio and he was the person telling you where to drop the bombshells. In May of 1942, on a 10-day fur low, he married Rita. He was awarded "the Bronze Star" for his efforts. He returned to Morganza.
Frank Serio, Jr. enlisted in the army in 1942 with a good friend of his, Jimmy Purpera. They left in his dad's car to enlist in Baton Rouge. When they finished the paperwork, the enlisting officer told Buddy "You're in the army and the train leaves in a few hours". He said he had to get his dad's car back first, but they wouldn't let him. His train passed through his hometown of Morganza on his way to his camp assignment. He was stationed in Florida.
In February of 1943, his girlfriend Myrtle Carmouche and his mother Marie Zito Serio caught the train and went to Stuart, Florida so Buddy & Myrtle could get married. Shortly after they were married, he was sent to North Africa. When he was discharged, he moved back to Morganza where he and Myrtle lived the rest of their lives. They had one child, Kathy. Buddy worked at Serio's Service Station repairing TVs, radios and other electronics until he passed away.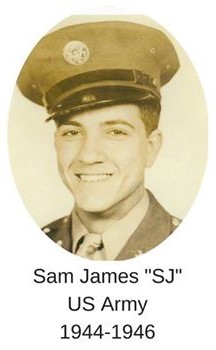 Sam James Serio was drafted into the Army on November 27, 1944 soon after competing High School. He trained at Fort Chaffee in Arkansas for six weeks and was then deployed to Europe. Traveling by ship he arrived in La Harve, France in May of 1945 on VE Day. He remained in Germany serving with the occupation forces for just over a year. After being discharged from the 94th Division of the Infantry Regiment on August 30, 1946, he returned to Morganza.
Shortly thereafter, Sam moved to Lafayette to attend college at Southeast Louisiana Institute, now University of Louisiana at Lafayette. While attending college, he married Nora Mae Ramagos on February 26, 1951. They eventually moved back to Morganza where Sam secured a job with the State Department of Transportation, a job he held until retirement. Their family of six children was raised in the house he and his brother Charlie built and completed in 1958.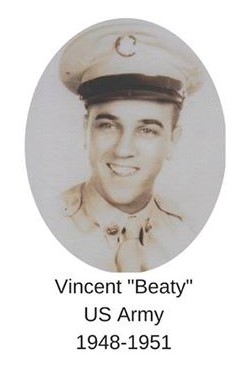 Vincent Serio enlisted in the army in 1948 to serve for 2 years. After the two years, the Korean Conflict happened. He was "frozen" and remained a third year. He was assigned to the army signal corps in stateside telephone communications. He married my Louise in April 1951 and he was discharged in August 1951. He and Louise raised their family in Baton Rouge where Beaty worked for the telephone company. They had 4 children.
Eugene Serio, nicknamed Jacko, enlisted at same time as Beaty. He enlisted in the army in 1948 to serve for 2 years. He remained for a third year once the Korean Conflict started. He was stationed in South Carolina, Alaska, Hawaii, Arkansas and Washington State. He worked in Personnel & Records until 1951.
While in Morganza one day, he saw Ann Bondi through the window of a friend's house she was helping paint. When he saw her, he said he had to meet her. They were married in June 1955. They had four children. He still operates the Serio Service Station started by his father.
Rudy Serio enlisted in the Air Force in March 17, 1953. Ten months later he was deployed to the Philippine Islands when a truce was signed after Korean Conflict. He left his pregnant 19-year-old wife and didn't return home until his child was as 13 months old. He recalls that the US had to pay the Philippine government $1 for every tree that was damaged by US troops during WWII. He and his wife raised four children in Baton Rouge. In the 1980s, he retired from Western Electric in the 1980s.
The Serios represent the patriotism of Morganza, which is one of towns on the Blue Star Highway of Louisiana west of the Mississippi River.