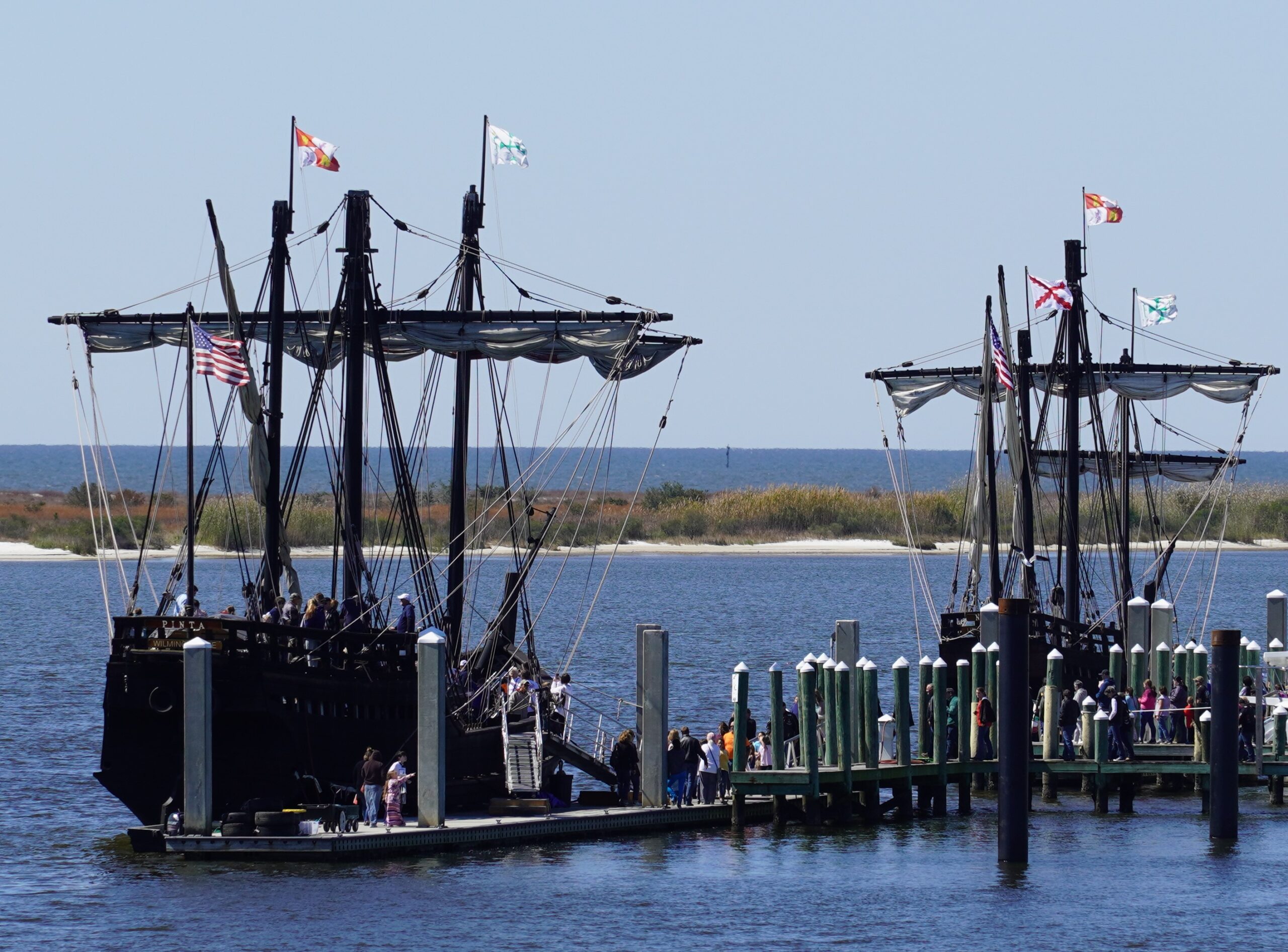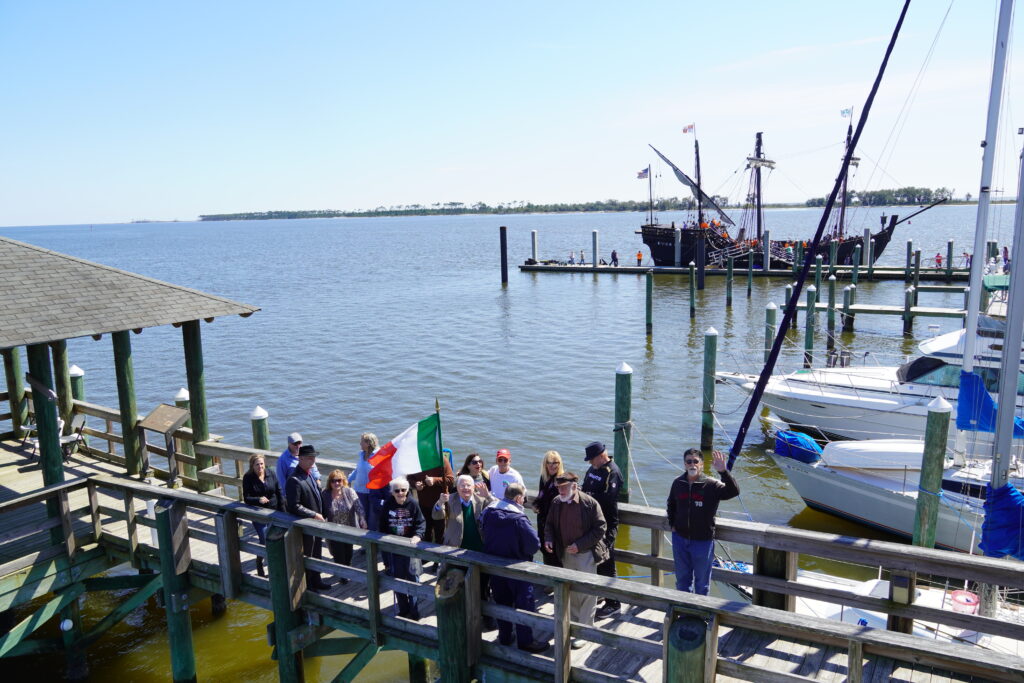 GCIACS President Joseph Ventura organized a wonderful tour on a beautiful day for twenty members of the GCIAS. The ships are in Biloxi for a few weeks as they tour the Western Hemisphere.
Prior to the tour, Dee Zee – a former history teacher and the ships' historian, spent fifteen minutes giving a detailed talk on the history of Christopher Columbus and the Nina, Pinta, and Santa Maria. "Dee Zee" talk educated the group on what to look for as it toured the ships, which also had staff on board to show details.
In 1450 the Ottoman Turks closed off the land trade route to the Far East. In 1476, Columbus was on a ship that was sunk by Barbary Coast pirates of Africa, but survived by holding on the a board and swimming two miles to land outside of Portugal. The pirates of the Barbary Coast believed the non-Muslims had to pay a "tribute." This belief lasted for over 400 years until 1804 and the Barbary Coast Wars. Hence the words in the Marine Hymn: "To the shores of Tripoli."
Columbus was motivated to find a safer trade route to the Far East. After 1491 and the Treaty of Granada with the Muslim Moors was signed, funds were available for the exploration.
Columbus was a great navigator and knew the winds blew east to west near the Azores to the Caribbean and west to east to the north. Using the stars he knew the ships on a straight line for 33 days.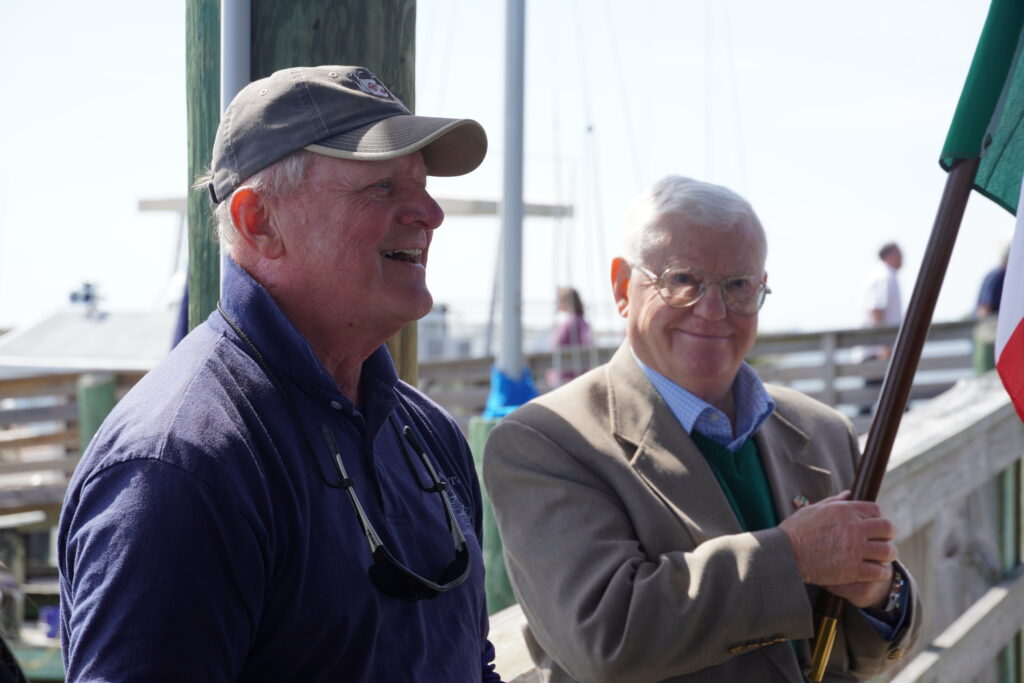 The Santa Maria's draft was 12′ feet compared to the Nina & Pinta, which had a draft of 7′. The Santa Maria ran into a reef following the Nina & Pinta and had to scrapped. The Captain decided to take a nap and told a less qualified person to "just follow the Nina & Pinta."
The Santa Maria was made into a hut and Columbus was forced to leave over 30 men from the Santa Maria. The men were killed by natives before Columbus returned to pick them up.
The Nina & Pinta replicas provide a great appreciation for what life was like for sailors, as all slept on deck. Below deck was where livestock and food were keep. The "cabin boy" was the only person allowed below deck.